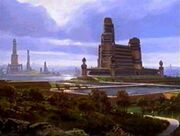 Leran Manev was the capital city of planet Trill, a Federation member world. It was located on the shores of Manev Bay and not far from the foothills of Bes Manev, the tallest mountain on Trill.
Notable locations
[
]
Dock district
[
]
The dock district led from Manev Bay directly through to the government sector.
Government sector
[
]
The Trill Senate Tower and the Trill Symbiosis Commission were located in the government quarter along with broad blocks of reflecting pools. There were also landing pads for shuttles and other small craft, including some next to the Senate Tower which were reserved for official Federation visitors.
Old City
[
]
To the south of the government quarter was the historic Old City which was made up of buildings of various architectural styles and ages, few of which exceeded four stories in height. The Najana Library, a glass and crystal library was situated here. Decorative artificial watercourses wound through the streets and buildings, criss-crossed by wood and metal bridges.
Other locales
[
]
Manev cemetery

Manev Central Hospital

Maran Avenue
History
[
]
Leran Manev was rocked by social unrest in the year 2376 that turned into mass riots when a local neo-Purist terrorist group detonated a neurogenic radiation weapon designed to kill Trill symbionts, leading to thousands of deaths. (DS9 - Worlds of DS9 novel: Trill: Unjoined)
Connections
[
]
capital planets and cities
Khitomer Accords alliance
Cardassia City, Cardassia (Cardassian Union) • Ferenginar (Ferengi Alliance) • First City, Qo'noS (Klingon Empire) • Paris, Earth (United Federation of Planets)
Typhon Pact

Ansirranana

, Breen (Breen Confederacy) • Gornar (Gorn Hegemony) • Ki Baratan, Romulus (Romulan Star Empire) •

Rashtag

, Janalwa (Holy Order of the Kinshaya) • Tholia (Tholian Assembly) • Tzenketh, Ab-Tzenketh (Tzenkethi Coalition)
non-aligned states
Dinaal City (Dinaal IV) • Empersa (Dominion) •

Guwine

,

Venette

(Venette Convention) • Keelee-Kee, Tezwa • L'hur (Sikaris III,

Sikarian Canon

) •

Me'leit

, Talar (Talarian Republic) • New Romulus (Romulan Republic) • Nova Roma, Rator III (Romulan Star Empire, post-Hobus) • Rexlar-D, Dosi (Dosi Confederation) •

Zahlnerest

(Zahl II, Zahl Regnancy)
Mirror Universe States
Deneva (Galactic Commonwealth) • Okinawa, Earth (Terran Empire) • Okinawa, Earth (Terran Republic)
Federation member states
Ares City (Confederated Martian Colonies) • Ashalla (Republic of Bajor) • Iaron (Damiano) • Leran Manev (Trill) • Lor'Vela (Andorian Empire) • New Coridan (People's Republic of Coridan) • New Samarkand (Alpha Centauri Concordium of Planets) • Nuvia (Risian Hedony) • Pike City (Cestus III) • San Francisco (United Earth) • ShiKahr (Confederacy of Vulcan) • Stratos (Ardana) • Zhelnogra (Tenara)
Federation member state subdivisions & colonies
Eau Claire (Belle Terre) • London (United Kingdom, United Earth) • Madrid (Spain, United Earth) • New Burbank (Rigel VI, United Rigel Colonies) • New Rakantha (New Bajor, Republic of Bajor) • Oslo (Norway, United Earth) • Port Emily (Sherman's Planet) • Rigel Trade Complex (Rigel X, United Rigel Colonies) • Washington, DC (United States, United Earth) •
interstellar state subdivisions
Ka'Hat (Sherman's Planet, Klingon Empire) • Kecemen (Karemma, Karemma Foundation, Dominion)
defunct interstellar states
Achernar Prime (Imperial Romulan State) • Thal, Thallon (Thallonian Empire) • Unimatrix 01 (Borg Collective)