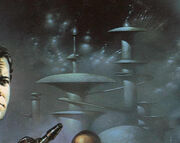 Levaeri V was an uninhabited planet, the fifth planet in the Levaeri star system, which itself was located in Romulan-controlled space, near their side of the Romulan Neutral Zone border. (TOS - Rihannsu novel: My Enemy, My Ally)
History and specifications
[
edit
|
edit source
]
In the 23rd century, Levaeri was an uninhabited planet claimed by the Romulan Star Empire. It lay close to, but outside, the Outmarches, sectors bordering the Romulan Neutral Zone.
In the year 2260, the Praetorate had Romulan High Command build a research space station in orbit of Levaeri V.
In the 2270s decade, a project concentrated at this station sought to augment Romulans with the mental abilities of their ancestral Vulcan species. Captured Vulcans were brought here for torturous experimentation, and their brain tissue kept for study. When Commander Ael t'Rllaillieu of the warbird ChR Bloodwing learned of the project, she feared for the stability of the Star Empire and its neighbors if the cutthroat politics of Romulus and Remus were augmented with telepathy. She conspired with her crew to destroy the research at Levaeri V. (TOS - Rihannsu novel: My Enemy, My Ally)
Around stardate 0304.6, in 2275[1], the Project Sunseed was used to generate a level-10 ion storm. The storm allowed the Romulans to capture the Vulcan-crewed Federation Constitution-class starship USS Intrepid II.[2] (TOS - Rihannsu novels: My Enemy, My Ally, The Romulan Way)
In an elaborate scheme concocted with her son, Subcommander Tafv tr'Rllaillieu, Ael destroyed the ChR Cuirass and allied with Captain James T. Kirk and the crew of the USS Enterprise. Ael convinced Captain Kirk and Commander Spock of the threat the telepathy research at Levaeri V posed. The Bloodwing, disguised as the ChR Cuirass, seemingly bested the Enterprise in combat, and was escorted to Romulus while towing the Federation ship. The allies destroyed their escorts, then set course for Levaeri V, which was en route the way Ael had planned the operation. A mixed Bloodwing-Enterprise team boarded the station after the ships had breached its security, rescuing the Intrepid crew. (TOS - Rihannsu novel: My Enemy, My Ally)
The incident eliminated the Romulan presence at Levaeri V, and was considered a lesson to the Romulans in the consequences of violating the Neutral Zone. The ChR Bloodwing going rogue also marked the first step toward the Romulan Civil War of 2276. (TOS - Rihannsu novel: The Romulan Way)
In 2386, Admiral Taris left Romulus to investigate rumours that the Sword of the Raptor Star may have been recovered on Leaveri V. Romulan military leader Donatra ordered Taris to return in 2387, but Taris ignored the order. (STO novel: The Needs of the Many)
Community content is available under
CC-BY-SA
unless otherwise noted.