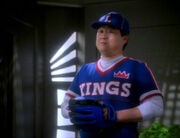 The London Kings were a professional baseball team from London, England who played in Earth's 21st century.
Battersea Stadium was the London Kings' home stadium. (ST novel: Federation)
In 2015, the Kings had their best season, one which would be considered the best ever by many fans. (DS9 episode: "Past Tense, Part II")
The London Kings would lose the 2032 World Series to the New York Yankees, but were the winners of the final World Series in 2042, in which Buck Bokai would hit the game winning home run. (VOY episode: "One Small Step", DS9 episode: "If Wishes Were Horses", ST novel: A Time for War, A Time for Peace)
A shortstop for the London Kings beat Joe DiMaggio's hitting streak in 2026. (TNG episode: "The Big Good-Bye")
Since the Kings played the Yankees in several World Series contests, the Kings were probably part of the National League, as the Yankees are an American League team.
External link
Edit
Community content is available under
CC-BY-SA
unless otherwise noted.