For other uses, see London.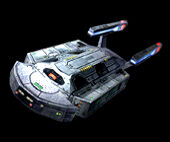 The London-class starship was a type of Federation support vessel, a troop transport used by Starfleet in the 24th century.
History and specifics
[
]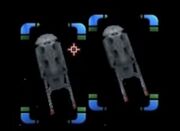 These ships were designed to enter into enemy territory under escort and ferry troops onto enemy planets for ground combat operations. The London-class vessels were also used to transport crews as well as materials to locations outside the Federation where they would be used to build starbases or outposts. These kinds of operations did not require the ship to have combat capability, and was unable to respond to attacks by enemy warships, which is why it required an escort.
Later, a more advanced "type 2" model of the craft was produced with a larger cargo capacity and more sophisticated shield technology, allowing the transports to survive battle engagements longer. (TNG video game: Birth of the Federation)
Known vessels
[
]
Appendices
[
]
Connections
[
]