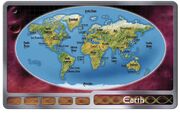 Louisiana was a region of the North American continent on the planet Earth, with boundaries that were created as the area was settled as a geopolitical subdivision of the United States of America nation.
History and specifics
Louisiana is located in the southern part of the United States. The eastern border of the state is at the Mississippi River, and to the south it is bordered by the Gulf of Mexico.
Louisiana bayous were brimming with mosquitos. (DS9 novel: The 34th Rule)
Swamp gas glowed in Louisiana. Patterson saw the effect in the 19th century. (TOS - Strange New Worlds VIII short story: "Shanghaied")
Louisiana, Alabama, and Texas natives sometimes spoke with a southern drawl accent. Cervantes Quinn affected the accent while talking to customs officer Ivan Vumelko in 2265. (VAN novel: Harbinger)
Captain Benjamin Sisko was a native of Louisiana, having been born in the city of New Orleans in 2332. His father Joseph Sisko lived in New Orleans, and owned a creole restaurant named Sisko's Creole Kitchen, in the French Quarter of the city. (DS9 episode: "Image in the Sand")
Jake and Benjamin Sisko once drank moonshine in the Louisiana bayous. (DS9 novel: Vengeance)
Keiko O'Brien knew that August was not the most comfortable month to visit southern Louisiana, but Miles O'Brien brought his family there for a visit in August 2376. (DS9 - Mission Gamma novel: Lesser Evil)
Early in the 25th century, Nog visited Jake's Louisiana residence in Terrebonne Parish. (ENT novel: The Good That Men Do)
In February 2423, Jake Sisko signed his history of the Undine War, The Needs of the Many, from Louisiana. (STO novel: The Needs of the Many)
Points of interest
Louisiana natives
Appendices
Background
See also
Connections
References
External links