M-113 (also known as Regulus VIII and Fotialla) was the fourth planet of a star system orbiting UFC-113, a yellow dwarf star. The planet was once home to an advanced humanoid civilization, as well as an indigenous species of creature known as the M-113 creature or "salt vampire". (ST references: The Worlds of the Federation, Star Trek Maps)
History
By the 23rd century, the civilization had long-died out and only ancient ruins remained on the planet, and only one "salt vampire" was known to have lived, as the planet turned into a hot and arid wasteland. The only plant life that survived on the planet were a type of dry bush and the poisonous Borgia plant. Because of the hot and arid environment, anyone who visited the planet needed to bring a large supply of salt so that they could survive.
In 2261, Professor Robert Crater and his wife, Nancy arrived on the planet, and established an archaeological dig around some of the ruins on the planet. Over the next four years they exported many fascinating discoveries off the planet, but in 2265, the number of items being exported dwindled immensely when Nancy was killed by the last remaining "salt vampire", although this was not discovered until 2266.
Instead of killing the creature, Crater took pity on the creature and it assumed the shape of Nancy and lived with Crater for a year. However, the truth was revealed in late 2266 when the USS Enterprise arrived to perform routine medical examinations of the Craters. During the encounter several Enterprise crewmen were killed by the vampire before it was ultimately revealed and killed. (TOS episode: "The Man Trap", TOS novelization: The Unreal McCoy)
At some time prior to 2329, a Vulcan archeological team led by T'Sera led a second expedition to the planet. (TOS novel: Vulcan's Heart)
The Robert Crater Archeology Institute, a permanent outpost, was eventually established on M-113. (FASA RPG module: The Federation, Decipher RPG module: Worlds)
Two sources provided different information for the planet's gravity, moons, and location. FASA RPG module: The Federation identified it as the second planet in the Gamma Zeta IV system with a gravity of 1.1 G and one moon. Decipher RPG module: Worlds reported it as the third planet in the Alpha Quadrant's Alpha Kezar system with a gravity of 1.0 G and no moons.
Landmarks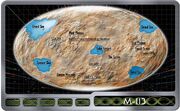 Lifeforms
Appendices
Connections
Appearances
References
External links