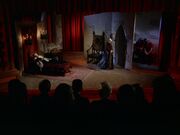 Macbeth was a play written by famed Earth playwright, William Shakespeare, and became one his best known works.
Macbeth is a tragedy, which features the lead character of the same name, who is a nobleman of Scotland. In the play, Macbeth acts on the prophecies of three witches (and the spurring of his wife, Lady Macbeth) by killing King Duncan and ascends to the throne of Scotland. His eventual downfall and destruction comes after the guilt drives him into madness and despair. Like most of Shakespeare's works, Macbeth was still performed in the 23rd and 24th centuries.
A version of Macbeth was created by the Arcturians in 2266. With the sponsorship of the Galactic Cultural Exchange Project, this rendition was performed by the Karidian Company of Players on several planets, including Planet Q. (TOS episode: "The Conscience of the King")
When the Orion Marta became ruler of Palmyra II, she hosted a dinner and private performance of Macbeth for the planet's corrupt bureaucracy, and poisoned their wine to be rid of them. (Decipher RPG module: Narrator's Guide)
Community content is available under
CC-BY-SA
unless otherwise noted.