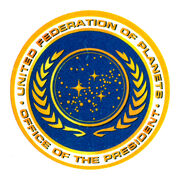 Madza Bral was a female Trill politician in the early 23rd century. She was elected President of the United Federation of Planets in the 2200s and served two terms. Bral was the first President who wasn't from one of the five founding worlds.
Her retirement speech included the following excerpt:
The presidency is quite possibly the worst job in the Federation. The hours are long, the work is difficult, the decisions that have to be made are unimaginable to anyone who has never set foot in the Palais de la Concorde. Your successes are unappreciated, your failures are blown out of all proportion, and your life disintegrates before your very eyes. And having said all that, I would never, under any circumstances, trade the last eight years for anything... What matters, in the end, is that the Federation endures.
(ST novel: Articles of the Federation)
Articles of the Federation establishes that Bral was elected "about a hundred and fifty years" before 2380. To accomodate Greshlahrigm, it is assumed that Bral was elected in 2232, assumed office in 2233, and remained in office until 2240.
Appendices
Connections
Council of the United Federation of Planets
Earth representatives
Haroun al-Rashid • Percival Kimbridge • Jonathan Archer • Courtenay Marshall • Indira Bhutto • Petrach Sormassov • Kevin McBride • Matthew Mazibuko
Vulcan representatives
T'Maran • T'Nuri • Sarek • T'Latrek • T'nirea • T'Los • Soron • Sokketh
Andorian representatives
Anlenthoris ch'Vhendreni • Avaranthi sh'Rothress • Thy'lek Shran • Zhimen ch'Rhettel • D'vin Loctrill • Thrandasar v'Elex • Shroom Stonwin • Charivretha zh'Thane • Kellerasana zh'Faila
Tellar representatives
Gralless • Gora bim Gral • F'xaq • Vagak Haggarak • Bera chim Gleer • Kyll
Alpha Centauri representatives
Nasrin Sloane • Sondri Sullivan • Huang Chaoying
Benzar representatives
Melnis • Linzner
Bolarus IX representatives
Min Zife • Nea
Cait representatives
S'rrel • Dynkorra M'Relle
Deltan representatives
LLyanaa • Eleana
Grazer representatives
Jaresh-Inyo • Severn-Anyar • Astoni-Yhard
Trill representatives
Jerella Dev • Jix
Zalda representatives
Samton • Molmaan
Bajoran representatives
Rava Mehwyn • Krim Aldos • Baras Rodirya
Other membership
Alonis: Nerramibus • Antede III: Selora Quintor • Arcturus: Jacob Varis • Ardana: Strovos • Betazed: Cort Enaren • Betelgeuse II: Chuu'iik Hru'uith • Bre'el IV: Nitram • Cestus III: Altoun Djinian • Damiano: Ra'ch B'ullhy • Deneva: Lynda Foley • Djana: Ewu • Efros: Domak Voris • Gemworld: Lari Beltane • Gnala: Gorus Gelemingar • Hermat: Saltroni 815 • Huan: Corices •

Icor IX

: Lyo Morhas • Igre: Gloobsherkpfack • Ithen: Danga Sitru • Izar: Grace Murabi • Janus VI: Sanaht • Koa: Sicarios • Makus III: Konahr Lutet • Mars: Qaletaqu • Chab jav Lorg • Nasat: C29 Green • Ona: Eftheria Lo • Pandril: Govrin • Regulus III: Maria Moi • Rigel Colonies: Kishkik Sajithen • Tomorok • Sauria: S'kaa • Terra Nova: Kevin Steiner • Tiburon: Jard Elbir • Gnizbreg • Triex: Artrin na Yel • Vega IX: Zhi Nu Palmer • Vestios: Lenith Agreho • Other councillors: Lisa abn Dari • Eric Cooper • Corvix • Walter Julliev • Alexis Kindr • Kleeg • Lanugu • Sipak • T'Vorin • Wulkk
Appearances and references