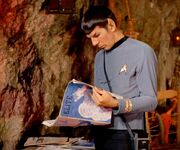 A magazine is a recurring publication that includes articles of similar thematic content. Magazines can contain all sorts of information and images. The cycle of publication could be weekly, fortnightly, monthly, bi-monthly, quarterly, or even yearly. Magazines have been published both physically and as electronic media.
In the 1950s, one or two news magazines reported the unusual behavior of an asylum inmate who had to be restrained and sedated after speaking his name, James T. Kirk. The reports were eventually discovered by Spock in 2269, who used them to rescue the captain. (TOS - The New Voyages short story: "Mind-Sifter")
In the 1950s and 1960s, various magazines sold at drugstores sensationalized threats to Earth from UFOs. James Wainwright purchased many of them, along with alien invasion novels such as The War of the Worlds. (TOS eBook: The Aliens Are Coming!)
In May 1974, Gary Seven placed ads in medical trade and popular science magazines offering discounts for types of technology that might entice members of a large-scale genetic engineering operation. (TOS - The Eugenics Wars novel: The Rise and Fall of Khan Noonien Singh, Volume 1)
In 1994, the elaborate work to construct Roberta Lincoln's cover identity as Bobbie Landers included magazine subscriptions. (TOS - The Eugenics Wars novel: The Rise and Fall of Khan Noonien Singh, Volume 2)
In 2251, Leonard McCoy opened a bosun's locker aboard the shuttle Spitfire hoping to find some old magazines for passengers to read. He was surprised to find it full of real books. (TOS - SA novella: Cadet Kirk)
In 2255 of the Kelvin timeline, Cadet Nyota Uhura spotted the article "Ten Good Reasons to Date an Older Man" inside a magazine, while waiting in the visitor's lounge of Starfleet Medical College. (TOS - SA novel: The Delta Anomaly)
In the 2260s, ship's historian Gilden kept sets of printed magazines, as well as books, letters and other historical records from planets visited by the starship USS Enterprise for later input to Memory Alpha. (TOS novel: Ghost-Walker)
In 2374, a member of the Q seemed to be reading a copy of a magazine named Q, although Q had no idea where it came from. (TNG novel: Q-Space)
In 2377, Brad Barringer's apartment in a Dixon Hill holographic program contained theater and movie magazines. (TNG novel: A Hard Rain)
Magazines have been published since the 17th century and have covered every topic imaginable. A number of licensed magazines have been devoted on Star Trek, some covering the entire franchise, others focusing on a single series or movie.
Community content is available under
CC-BY-SA
unless otherwise noted.