For other uses, see Mars.
The Mars class[7] was a 31st century[3] Federation starship class, a scout in Starfleet service in the 3180s decade. (DSC episode: "Die Trying")
Technical specifications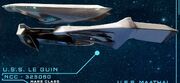 The Mars class was a starship consisting of three detached components, a triangular primary hull flanked by curved warp nacelles on either side. The primary hull narrowed to a round section at the bow, with the ship's name and registry number displayed around windows or lights.
Its design belied its purpose as a scout vessel. (DSC episode: "Die Trying")
Development
In the 30th century, dilithium resources started to dry up. In 2958, Starfleet began to trial alternative propulsion technologies besides warp drive. (DSC episode: "People of Earth")
The design of the Mars class was a result of the pursuit of these alternative forms of FTL travel, with its goal of becoming independent of dilithium-based reactions. In an effort to reduce the vessel's warp bubble size, Starfleet turned the main hull into a streamlined structure and added comparatively substantial propulsion nacelles. Starfleet incorporated ideas of theoretical subspace propulsion techniques.
The experiments into subspace manipulation failed to provide any viable FTL alternatives. Despite that, the technology itself was deemed a suitable for a defensive purpose. Therefore, Starfleet deemed the resulting Mars-class escort a qualified success.
As a result, Starfleet put the Mars class into production. The equipped specialized subspace emitters were repurposed to serve as deterrents for factions who might threaten the Federation.
Bridge officer stations included a dedicated seat for a combined tactical officer/pilot specialist, and another for an intelligence operative. (STO website: The Mars Class Comes to the Infinity Lock Box!)
Livery
In the 25th century, the design of the Mars-class pilot escort allowed its commanding officer to choose from different designs of hull materials, which could be modified further at shipyards.
The ship's name and NCC or alternative registry number were emblazoned on the hull. (STO - Klingon War mission: "Welcome to Earth Spacedock")
Furthermore, the installation of deflector shields from specific factions modified the hull appearance, including shields from the Reman Resistance, the Breen Confederacy and the Dominion. (STO missions: "Coliseum", "Cold Storage", "Boldly They Rode")
Service history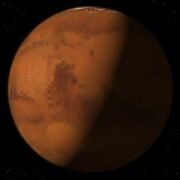 It was one of ten Federation classes active in the 3180s.
In that decade, Mars-class scouts operated from inside the distortion field surrounding the Federation Headquarters space station.

In 3189, ships of the class, including the USS Le Guin, were present as the time-displaced USS Discovery made its way through the distortion field towards Federation HQ. Lieutenant Commander Nhan of the Discovery identified the ship as a scout on sight, wondering what its range was. (DSC episode: "Die Trying")
Three weeks later, Fleet Admiral Charles Vance sent the Le Guin, under the command of Captain Bandra, on a long-range mission. (DSC episode: "Scavengers")
Known vessels

Appendices
Connections
Appearances and references
Appearances
References
External links