For other uses, see

Mayflower

.
The Mayflower class[1] was a 23rd century[2] Federation[2] starship type, an explorer[1] based on the hull of the 2230s-era[2] Einstein-class surveyor, in Starfleet service by the 2250s[2] decade. (TOS movie: Star Trek)
Service history and specifications
[
]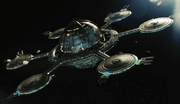 The Mayflower-class hull shared the same basic components and design language of the Einstein class, active in the 2230s. This included the flat, circular saucer section, with a raised section extending from behind the bridge module and ending in a shuttlebay above the red-glowing main impulse engine. The Mayflower lacked the surveyor's engineering hull. The deflector dish was housed on the ventral saucer in front of the sensor dome instead. A pair of squat nacelle pylons held the warp nacelles below the port and starboard sides of the saucer, respectively.
Additional white-blue impulse engines sat at the end of the warp nacelles. (TOS movie: Star Trek)
The Saladin-class destroyer, active by the 2250s,[4] was based on the older Mayflower-class. Unlike its elder cousin, the Saladin featured only a single underslung warp nacelle. (ST video game: Fleet Command)
The Mayflower-based Saladin class was in service by the year 2255. (TOS - Starfleet Academy novel: The Gemini Agent)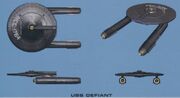 Around 2258, the USS Defiant featured a black hull paint, unlike other Mayflower sister ships. (Star Trek: Designing Starships reference: The Kelvin Timeline)
In that year, Starfleet launched a brand-new USS Enterprise with a new, more advanced-looking hull material and geometry. (TOS movie: Star Trek)
The Defiant and Mayflower were docked at Starbase 1 when the time-displaced 24th century Romulan mining vessel Narada attacked Vulcan. The Vulcan High Command issued a distress call, and the Defiant and Mayflower joined the ships undocking from Starbase 1 one to respond. Enterprise was delayed and found only debris of the fleet in Vulcan's orbit. The Mayflower's wrecked saucer scraped the Enterprise's starboard nacelle. (TOS movie & novelization: Star Trek)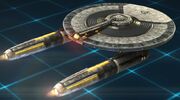 Following the destruction of the previous Mayflower in the Battle of Vulcan, Starfleet launched a successor ship of the same class and registry, which had entered service by the year 2262. The Mayflower II participated in conflicts and missions in the disputed Neutral Zone. The Augments faction stole the blueprints for this ship and created their own facsimile, also named Mayflower. (ST video game: Fleet Command)
In the primary universe, at least one ship of this class was docked at Deep Space Station E-5, located at a midpoint between the Romulan Neutral Zone and Sector 001, in 2371. (TOS - Spock: Reflections comic: "Issue 3")
Known vessels
[
]
Appendices
[
]
Connections
[
]
References
[
]
External link
[
]