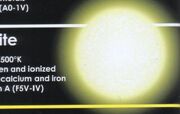 Megrez (or Delta Ursae Majoris) was an F class quadrinary star with a magnitude of +1. Megrez and its associated star system were located in the Alpha Quadrant of the Milky Way Galaxy. Situated over 40 light-years from Sol, Megrez was visible from Earth in the constellation of Ursa Major. (ST reference: Star Charts; ST video game: Starfleet Command III)
Megrez appears on the "Trade Routes 22nd century" map (p.44) in Star Charts. It is of the same type and class of star, and in the same position as Galador, which appears on the "Alpha Quadrant Cardassian Union" map (p.47).
No history or specifics are established for this location in Starfleet Command III gameplay, as its name was arbitrarily selected for a system on the game map by the game software, with random attributes.
Appendices
Connections
Alpha and Beta Quadrant stars and star systema (D)
Daffodon • Dagem • Dak-Alpha • Dakiak • Daled • Danae Victoria • Danara 5986 • Danian •

Dantar

• Dante • Danton • Danula • Daran • Dark Horse • Daros • Dar'shinta • Dauouuy • Davidul • Daxura • DD Tauri • Dedderac • Dekian • Delanath • Delanos • Delior • Delius • Dellaton • Delleren • Delmas • Delos • Delta (Delta Principius/Delta Triciatu) • Delta Arietis • Delta Arlana • Delta Cassiopeiae • Delta Cyanna • Delta Darius • Delta Fuego • Delta Gamma • Delta Gamma • Delta Indus • Delta Khinah • Delta Majoris • Delta Neezott • Delta Omega • Delta Principius/Delta Triciatu • Delta Sigma • Delta Theta • Delta Vara • Delta Vega • Delta Zeta 785 • Demeter • Denab • Deneb Kaitos • Denkir • Denocet • Denro • Derenja • Detria • Devnar • Devona • Dexel • Dextera 273 • Deznah • Dhum'Qha • Dhu'Qua • Diad • Didacti • Didi • Digifal • Dilyut • Dinar • Dis • Disuz • Dixiak • Dizok • Dolcan • Donovan's Star • Don'zali • Doona • Dorala • Doska • Douruine • Doxiez • Dozox • Drago • Draken • Dramia • Draomn • Draxis II • Drexler • Drid • Drixane • Dundee • Duosetel • Duraiana • Durala • Duran • Duval • Duviniax
Alpha Quadrant stars and systems (D)
Dannus • Davon • Delavi • Delkar • Delta Aquilae • Delta Aurigae • Delta Herculis • Delta Pegasi (Delta Pegasi A • Delta Pegasi B) • Delta Ursae Majoris • Denab • Deneb systems: (Deneb • Deneb Kaitos • Deneb el Okab) • Denobula Triaxa • Devidian • Dnoces • Doltec • Dopteria • Dorvan • Draco Minora • Draco Omega 371 • Draco Ursula • Draygo • Draylon • Dreon • Dubhe
Beta Quadrant stars and systems (D)
D'deridex • Da'Kel • Danteri • Dasha Verta • Davlos • Dayos • Delphic • Delta Canaris • Delta Corvi • Delta Dorado • Delta Eridani • Delta Geminorum • Delta Hydri • Delta Leonis • Delta Leporis • Delta Orcus • Delta Pavonis • Delta Phoenicis • Delta Rana • Delta Velorum • Denebola • Deneva • Denius • Derex • Desotriana • Dessica • Devolin • Devoras • Devorren • Devron • Dewa • Dimorus • Dinasia • D'Korin • Donatu • Drovna • Dumok'azen
External links