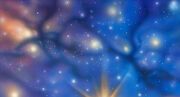 The Mekorda sector was a region of space, a sector located in the galaxy's Alpha or Beta Quadrants. (TNG episode: "Emergence")
History and specifics
This sector was known to the Federation and Starfleet by the late 24th century.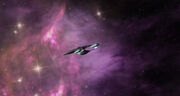 In the 2370s decade, the Mekorda sector contained several stars. The majority of those were main-sequence binary stars that lacked class M planets.
In the year 2370, the USS Enterprise-D searched the Mekorda sector for potential Federation colony sites. The search was unsuccessful due to the lack of habitable planets. A magnascopic storm occurred during the survey, enveloped the Enterprise, and indirectly led to the birth of a new lifeform on stardate 47869.2.
Following the storm, emergent circuit nodes took control of the Enterprise and directed to potential sources of vertions. The nodes first visited the white dwarf star Tambor Beta-6, then proceeded to the Cordannas system. The Enterprise crew managed to redirect their ship to the MacPherson Nebula. Finding a source of vertions, nodes developed into the emergent lifeform, which left the ship. (TNG episode: "Emergence")
Locations
Appendices
Connections
External link