Featured Articles are what we, the members, consider to be the best articles that have been contributed to the wiki, and are comprehensive and well-written. If you find an article that you think reaches a high standard, please nominate it!
Every month, a new Featured Article will be selected from the list below to be placed on the Main Page as a spot-light of our best work. Once an article has been on the nomination page for seven days without any objections, or the objections have been addressed, then the article is added below.
Embolded links means that the article has previously been a featured article on Memory Beta.
Current Featured Article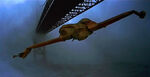 The HMS Bounty was the name given to the B'rel-class Klingon Bird-of-Prey captured by James T. Kirk and the former crew of the USS Enterprise in 2285. The vessel, the prototype of the B'rel-class, was, when in Klingon service, previously known as either the IKS B'rel (IKC-9200) or IKS Qel'Poh.
The IKS B'rel was the prototype of the B'rel-class, a design that came out of the Klingon-Romulan alliance in the mid-23rd century; equipped with a cloaking device the class saw the Klingons develop new, more stealthy, tactics.
In 2285 the Qel'Poh was commanded by Commander Kruge; Kruge received a transmission from the Klingon operative Valkris, who had obtained a copy of the Genesis Project summary and related data. The Qel'Poh rendezvoused with the freighter Merchantman, which Valkris had used to travel to the rendezvous point. Valkris transmitted the data to Kruge, and when she revealed that she had seen the data, Kruge attacked and destroyed the Merchantman. After viewing the data. Kruge realized that potential of the Genesis Device as a weapon, and he ordered his men to cross the Klingon Neutral Zone.
Arriving at the Genesis Planet, the Qel'Poh encountered the USS Grissom, which was conducting a study of the planet. Kruge ordered his gunner to disable the ship, but the torpedo scored a direct hit, and the Grissom was destroyed. A furious Kruge vaporized the gunner with his disruptor. The Qel'Poh's sensors picked up the life signs of Saavik, David Marcus, and Spock on the planet surface, as well as Saavik's radio transmissions.
<...more>
Featured articles by subject
Edit
Real-world
Edit
Video games
Edit
In-universe
Edit
Characters
Edit
Starships and vehicles
Edit
Locations
Edit
Races and cultures
Edit
States and organizations
Edit
Miscellaneous
Edit
Community content is available under
CC-BY-SA
unless otherwise noted.