Featured Articles are what we, the members, consider to be the best articles that have been contributed to the wiki, and are comprehensive and well-written. If you find an article that you think reaches a high standard, please nominate it!
Every month, a new Featured Article will be selected from the list below to be placed on the Main Page as a spot-light of our best work. Once an article has been on the nomination page for seven days without any objections, or the objections have been addressed, then the article is added below.
Embolded links means that the article has previously been a featured article on Memory Beta.
Current Featured Article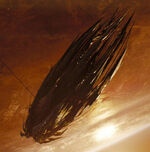 The Narada was a Romulan mining ship in service of the Romulan Mining Guild, and commanded by Captain Nero, in the 2380s. In 2387, following the destruction of Romulus in the Hobus supernova the Narada was refitted with advanced Borg-originated technology. Driven by hatred and grief Nero, who blamed the Federation, and Ambassador Spock in particular, for the loss of Romulus, commanded the Narada in devastating attacks against Federation and Klingon targets. When the Narada confronted Spock as he attempted to stop the Hobus supernova inflicting any further damage both the Narada and Spock's ship were pulled into a black hole Spock had created. The Narada emerged from the black hole in the year 2233, triggering the start of a new timeline. In the 23rd century Nero used the Narada to continue his vendetta against the Federation, until the Narada was finally destroyed by the crew of the USS Enterprise in 2258.
In 2387, the Narada was drilling on a planet in the Hobus system. The crew discovered trace amounts of iridium, deuterium and, most notably, large deposits of decalithium. Glad at the valuable find, Nero immediately ordered the start of mining operations, but was forced to cancel his plans when the Hobus star's activity increased dangerously, sending a large solar flare towards the planet.
<...more>
Featured articles by subject
Edit
Real-world
Edit
Video games
Edit
In-universe
Edit
Characters
Edit
Starships and vehicles
Edit
Locations
Edit
Races and cultures
Edit
States and organizations
Edit
Miscellaneous
Edit
Community content is available under
CC-BY-SA
unless otherwise noted.