Featured Articles are what we, the members, consider to be the best articles that have been contributed to the wiki, and are comprehensive and well-written. If you find an article that you think reaches a high standard, please nominate it!
Every month, a new Featured Article will be selected from the list below to be placed on the Main Page as a spot-light of our best work. Once an article has been on the nomination page for seven days without any objections, or the objections have been addressed, then the article is added below.
Embolded links means that the article has previously been a featured article on Memory Beta.
Current Featured Article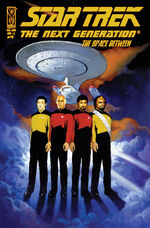 Light of the Day is a Star Trek: The Next Generation comic, the fourth issue of IDW Publishing's The Space Between miniseries. The comic was written by David Tischman with art by Casey Maloney, and was initially released in April 2007, with a reprint in the omnibus of the series in September of the same year. The story, set in 2369, sees a shuttle from the USS Enterprise-D crash-land on the planet Riat, where the crew find themselves fighting for survival when they enter a Dracon monastery. Meanwhile on the Enterprise, the crew work with a political criminal, Kommandant Ghud, to try and find the shuttle.
In the shuttlecraft Goddard, Worf, Ro Laren and Geordi La Forge look forward to returning to the Enterprise after their recent briefing from Starfleet when a massive wave of solar flare activity forces them to drop out of warp. The shuttle careens out of control and crashes into the snowy mountains of a planet.
The shuttle severely damaged the group make their way to the shelter of a near by building. Inside they find out they are in a Dracon monastery on the planet Riat, but no monks come to greet them. Ro has an uneasy feeling about the place, and rightly so, nearby someone watches them through a peep hole.
<...more>
Featured articles by subject
Edit
Real-world
Edit
Video games
Edit
In-universe
Edit
Characters
Edit
Starships and vehicles
Edit
Locations
Edit
Races and cultures
Edit
States and organizations
Edit
Miscellaneous
Edit