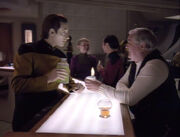 On Memory Beta, Ten Forward is a place where members can discuss any issues that are related to Star Trek or the direct operation of the wiki.
Any off-topic discussions are not allowed in the forums, as there are plenty of other forums to discuss this.
When posting on the forum, please don't forget to sign your post by adding four tildes (~~~~).







| | |
| --- | --- |
| To create a new topic, type the subject in the box to the right and press the "Create new topic" button. | |
| Topic | Last Post | Last Author |
| --- | --- | --- |
| Brazilian Star Trek comics | 04:01, 2 June 2022 | Captainmike |
| Temporary species | 11:06, 27 April 2022 | Captainmike |
| Idea for reorganizing reference lists | 17:11, 17 April 2022 | Captainmike |
| Character identity problems | 01:13, 20 January 2022 | NetSpiker |
| Replacement facilities | 22:06, 11 January 2022 | Sulfur |
| Quotes in articles | 18:18, 6 January 2022 | Meacott |
| Community consensus - series abbreviations | 18:44, 5 January 2022 | Captainmike |
| Table standardization | 17:28, 31 December 2021 | Captainmike |
| Coda novels changes to continuity | 17:25, 31 December 2021 | Captainmike |
| Release dates of novel translations | 17:24, 31 December 2021 | Captainmike |
| Translations? | 17:20, 31 December 2021 | Captainmike |
| Info from official Star Trek franchise social media | 17:18, 31 December 2021 | Captainmike |
| ISBN links | 17:13, 31 December 2021 | Captainmike |
| Site changes | 02:25, 31 December 2021 | Captainmike |
| Why all capital letters in article titles? | 02:05, 31 December 2021 | NetSpiker |
| 32nd century Dominion | 19:53, 16 November 2021 | Captainmike |
| Tas timeline | 22:12, 9 November 2021 | Captainmike |
| Images in reference lists of publications/episodes | 21:59, 16 October 2021 | Captainmike |
| 60K | 23:50, 7 September 2021 | Captainmike |
| Gender | 01:42, 9 August 2021 | Captainmike |
| Chronology of DSC season 2 finale - sourcing | 18:45, 4 August 2021 | Admiral Markonian |
| Happy First Contact Day | 22:09, 5 April 2021 | Captainmike |
| New image usage | 18:14, 2 April 2021 | Captainmike |
| Editing supernumerary starship class specifications | 16:37, 23 March 2021 | Captainmike |
| Block amnesty | 20:24, 16 March 2021 | Admiral Markonian |
| Mirror Universe and Myriad Universes as series | 23:57, 10 March 2021 | Captainmike |
| Star Trek Fleet Command lore? | 23:39, 10 March 2021 | Captainmike |
| Money, socialism, and the future. | 03:44, 8 February 2021 | Sulfur |
| Pocket Timeline chronology question about Novelizations | 03:29, 24 January 2021 | Captainmike |
| Ten Forward coding | 15:56, 2 January 2021 | Sulfur |
| Separating Strange New Worlds | 19:00, 10 December 2020 | Admiral Markonian |
| New platform issues | 17:44, 6 December 2020 | Captainmike |
| Policy reminder | 17:39, 6 December 2020 | Captainmike |
| Merge Template | 17:38, 6 December 2020 | Captainmike |
| Thanks to those who help new users | 17:37, 6 December 2020 | Captainmike |
| Alpha only? | 01:33, 28 August 2020 | Captainmike |
| How would you rate Picard | 00:41, 22 August 2020 | Captainmike |
| Mirror Universe of the alternate reality | 13:20, 10 August 2020 | Captainmike |
| Picard/canon changes | 13:16, 10 August 2020 | Captainmike |
| IDW Doctor Who/Star Trek crossover | 13:15, 10 August 2020 | Captainmike |
| Memory Alpha | 19:47, 14 July 2020 | Renegade54 |
| PIC cleanup project? | 11:34, 8 June 2020 | Captainmike |
| "Requiem for a Martian" | 21:44, 20 April 2020 | Captainmike |
| What Is Memory Beta | 07:38, 16 April 2020 | Admiral Markonian |
| Merge STO announcement articles? | 03:13, 11 April 2020 | TimPendragon |
| Separating Sources | 14:13, 7 February 2020 | Captainmike |
| Voyages of... pages | 10:36, 9 October 2019 | Sulfur |
| Picard: The First Duty exhibition | 13:08, 25 July 2019 | Captainmike |
| The "what links here" page | 18:22, 15 July 2019 | DS9 Forever |
| Representation of stardates | 16:36, 18 February 2019 | Captainmike |