For other uses, see Merian.
The Merian class[1] was a 31st century[2] Federation starship class, a science vessel[1] in Starfleet service since before the Burn. (DSC episode: "People of Earth")
History and specifications
[
]
Origin and development
[
]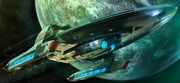 The original Merian-class explorer entered service in the year 2377. The vessels crewed around 70 to 75 officers and crew, and were 10 decks in height. Merian vessels measured 218 meters in length, 46 meters in height and 115 meters in width, and massed around 540,000 metric tons. Their hull consisted of a roughly triangular primary hull with a squared-off aft section, equipped with a dorsal roll bar and a pair of warp nacelles suspended below the saucer. The physical arrangement reminiscent of the 23rd century Reliant-class cruiser. (SOTL calendar: Ships of the Line 2012)
In the 2380s decade, explorers of this class were equipped with a benamite-powered quantum slipstream drive and assigned to Project Full Circle for a dedicated exploration of the Delta Quadrant. One of the ships in the fleet was the USS Curie (NCC-81890). (VOY novel: Children of the Storm)
Service period
[
]
A larger version of the Merian class, retaining the general shape of the hull but with a more pentagon bent and an additional pair of warp nacelles in place of the roll bar, was in service by the 3060s decade. (DSC episode: "Die Trying")
The modern Merian-class was either the result of refitting the original class, or a new class with a legacy name.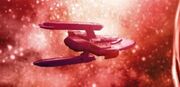 A Merian-class ship was 777.24 meters long in total. While Starfleet had employed classes with a quad-nacelle configuration since the 23rd century, the era of detached nacelle technology improved its practical application.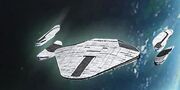 One of the modern Merian-class science vessels, the USS Curie (NCC-81890-J), was named for the Human scientist Marie Curie, a medical specialist. The Curie-J carried out missions of a specialist medical nature. (Shipyards reference: Starfleet Ships 2294 - The Future)
It was one of several Federation classes active in the 3060s decade. (DSC episode: "People of Earth")
In 3069[3] at least six ships of this class operated in the sensor range of the unnamed Federation relay station when the Burn occurred and destroyed all starships with an active warp core across the galaxy by destabilizing their dilithium. When the ships' dilithium crystals went inert, matter/antimatter containment failed, and the vessels detonated instantaneously.
In the year 3188, acting communications chief Aditya Sahil shared his station's sensor logs with Commander Michael Burnham. These included graphics of the Starfleet ship locations and a visualization of their destruction when the Burn was triggered. Burnham reported these findings in a transmission to her ship, the time-displaced USS Discovery on stardate 865211.3. (DSC episode: "People of Earth")
Ships of this type was still in service in the 32nd century. In the 3180s decade, the Curie-J operated from inside the distortion field surrounding the Federation Headquarters space station.
In 3189, the Curie was present as the time-displaced USS Discovery made its way through the distortion field towards Federation HQ. (DSC episode: "Die Trying")
The Curie participated in the battle to defend Federation HQ from the Emerald Chain around stardate 29141429.1. (DSC episode: "That Hope Is You, Part 2")
Known vessels
[
]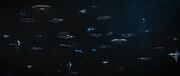 Appendices
[
]
Connections
[
]
Appearances and references
[
]
Appearances
[
]
References
[
]
External link
[
]