You may be looking for his ancestor of same name.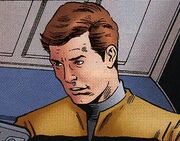 Meyer (or Meyers) was a male Human Starfleet officer in the 24th century.
In 2365, aboard the USS Enterprise-D, he and fellow officer Boyajian were temporarily fooled by the Selelvian "Knack", then subsequently stunned by a Klingon phaser during a red alert crisis. (TNG novel: Strike Zone)
In 2371, he was aboard the USS Defiant acting in a command capacity during a trip to Cardassian space with Benjamin Sisko. (DS9 comic: "Sole Asylum")
By 2380, he was a security officer on board the USS Enterprise-E. He and security officer Boyajian made the mistake of attempting to subdue Worf. (TNG novel: Before Dishonor)
Appearances and references
[
edit
|
edit source
]
Community content is available under
CC-BY-SA
unless otherwise noted.