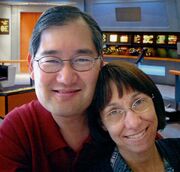 Michael Okuda is a scenic and graphic artist who worked on all live-action Star Trek series up through Enterprise. He also served as a technical consultant to the script writers on the shows, along with Rick Sternbach, and has contributed to several Star Trek publications.
Okuda has worked on every Star Trek series since Star Trek: The Next Generation and completed the collection in 2006 when he and his wife, Denise Okuda, became producers on the Star Trek remastering project, working on new CGI visual effects for Star Trek: The Original Series. Okuda's credits also extend to the Star Trek movies, working on every film from Star Trek IV: The Voyage Home until Star Trek Nemesis and contributing to the video game Star Trek: Borg.
In 2001, Okuda designed the new title logo for the Star Trek: Deep Space Nine relaunch novels. (DS9 novel: Avatar, Book One)
Between his Star Trek and NASA creations, Michael Okuda has made quite a name for himself as a graphic designer. Okuda recently helped NASA develop the logos for the Constellation Program. For his help with this project, Okuda received the NASA Exceptional Public Service Medal on 9 July 2009. "The projects I've done have always promoted the value that exploration is good and that it can lead to things we can't even imagine today," Okuda said.
Bibliography
Books
Star Trek: The Next Generation Technical Manual (with

Rick Sternbach

, November 1991)
Star Trek Chronology (with Denise Okuda, April 1993, November 1996)
The Star Trek Encyclopedia (with Denise Okuda, 1997, 1999, 2011, 2016)

Star Trek Sticker Book

(with Denise Okuda and Doug Drexler, September 1999)
Ships of the Line (text for calendar image reprints, 2006, 2014)
USS Enterprise Owners' Workshop Manual (technical consultant, introduction, 2010)
TNG reference: On Board the USS Enterprise (with Denise Okuda, March 2013)
Calendars
Articles
Appendices
Images
External links