"Mind-Sifter" is a Star Trek (TOS) short story by Shirley S. Maiewski, published in the anthology The New Voyages in March 1976.
Summary
Captain Kirk is stranded on 1950s Earth in a mental hospital, having been abducted by Kor, subjected to a Klingon mind sifter, and transported through the Guardian of Forever. Spock is promoted to captain and spends a year looking for Kirk.
References
Characters
Blair (reporter)

• Christine Chapel • Pavel Chekov •

Fred

• Guardian of Forever • Jan Hamlin • Josephs • James T. Kirk • Kyle • M'Benga • Leonard McCoy • José Méndez • Kevin Riley • Montgomery Scott • Spock • Hikaru Sulu • Thomas (engineer) •

Frank Thomas

• Nyota Uhura •

Leonard Wright
Referenced only

God • Edith Keeler • Kor • Superman
Starships and vehicles
Locations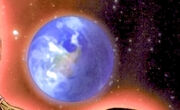 Races and cultures
States and organizations
Other references
American English • Berthold ray •

boatswain's pipe

• boot • casserole • coffee • dress •

fork

• grass • jacket • mind-sifter • Saurian brandy • selector •

spoon

•

straitjacket

•

subcutaneous transponder

•

sweater

•

tape

• transporter • turbolift • uniform • water
Chronology
Appendices
Related media
Background
The absence of Captain Kirk from the Enterprise for an entire year, and Spock's temporary promotion and uniform change make this story difficult to reconcile with the timeline later established in canon. One possibility is that the use of the Guardian of Forever caused the reversion of these events from the characters' history, even though they might still carry memories of these events.
Connections
Timeline