For other uses, see Minuteman.
The Minuteman-class was a series of United Earth destroyer starships in Earth Starfleet service around the time of the 22nd century.
History
[
]
During the latter half of the 2150s decade, ships of the Minuteman-class were among those which saw action against the Romulan Star Navy in the Earth-Romulan War. (ST video game: Legacy)
Specifications
[
]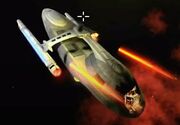 In the year 2159, these vessels were equipped with two phase cannons and five spatial torpedo launchers, and were protected by polarized hull plating. (ST video game: Legacy)
Known vessels
[
]
Appendices
[
]
Connections
[
]
Background
[
]
No explanation is given for these vessels' Federation Starfleet-style registry numbers and their use of the "USS" name prefix, despite existing two years before the inception of the Federation.
The game software included numerous other names for ships of this class that were not prepared to be used in gameplay, and are hidden in the game's source code, including USS Anubis, USS Batidor, USS Bowie, USS Canis Major, USS Canis Minor, USS Carson, USS Equulus, USS Grus, USS Leo Minor, USS Pegasus, USS Revere, USS Taurus and USS Vulpecula. Possibly, these vessels were intended for some feature of the game that was not completed. For example, none of these ships are coded with registry number graphics like those the included ships possess.