Mitch Csatlos was a Human Maquis member, who was given the rank of Crewman aboard the USS Voyager when it was thrown to the Delta Quadrant. He was born on Earth in Galway, Ireland on March 17, 2351, and became a member of the Hazard Team's Beta Squad.
Early Life
[
]
An eternal optimist, Csatlos is a bit of a riverboat gambler at heart. He enjoys taking chances, some would say he takes them too often. While this attitude gained much for him, it has had a high price: his career in Starfleet. After several training incidents which almost cost him and his teammates' lives, he was asked to leave Starfleet for good.
Joining the Maquis
[
]
Csatlos left, hoping someday to return after he redeemed himself. But he then joined the Maquis and found it very rewarding, fighting for people he believed to be the victims of injustice. He is also an avid runner; a track star in high school and later he won the Starfleet Academy Track and Field 4k event. He was aboard Chakotay's ship, the Val Jean, when it was thrust into the Delta Quadrant with Voyager, and was then integrated into it's crew.
The Hazard Team
[
]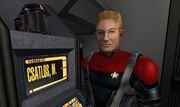 Csatlos tried out for the Hazard Team and was assigned to the team's Beta Squad in 2376. He accompanied Alexander Munro and Austin Chang aboard the Dreadnought gunship, where he assisted in an attempt to ward off the Vohrsoth's Harvesters from Voyager. When they were unsuccessful, Csatlos and the team returned to the ship and helped drive the invaders off by force.
Csatlos also assisted in the final mission to the Forge, where he fought alongside other Hazard Team and Voyager crewmembers in their operation to destroy the station.
It is assumed that Csatlos returned with the rest of the crew when Voyager escaped the Delta Quadrant through the Borg transwarp hub. It is likely he received a Starfleet security assignment either on another starship or a station, since he did not join the reformed Hazard Team aboard the USS Enterprise-E in 2380. (VOY video game: Elite Force)
Appendices
[
]
Connections
[
]
Background
[
]
If Mitch takes too much damage during the Dreadnought mission, it is possible for him to die. Since the only appearance he makes after the mission is helping Munro fight off the Harvesters that boarded Voyager, this has little overall effect on the plot.