---
Spoiler warning:
Plot and/or ending details follow: The following content contains spoilers!
---
Moments Asunder is the first novel in the Star Trek: Coda trilogy by author Dayton Ward, released on 28 September 2021.
Description
[
]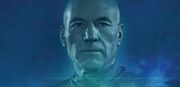 Starfleet's finest faces a challenge unlike any other.
Tomorrow is doomed.
Time is coming apart. Countless alternate and parallel realities are under attack, weakening and collapsing from relentless onslaught. If left unchecked, the universe faces an unstoppable descent toward entropy.
Wanderer, oracle, ally.
Scarred and broken after decades spent tracking this escalating temporal disaster while battling the nameless enemy responsible for it, an old friend seeks assistance from Captain Jean-Luc Picard and the crew of the starship Enterprise. The apocalypse may originate from their future, but might the cause lie in their past?
Everything that will be.
Identifying their adversary is but the first step toward defeating them, but early triumphs come with dreadful costs. What will the price be to achieve final victory, and how will that success be measured in futures as yet undefined?
Solicitation
[
]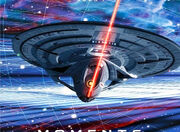 The crews of Jean-Luc Picard, Benjamin Sisko, Ezri Dax, and William Riker unite to prevent a cosmic-level apocalypse—only to find that some fates really are inevitable.
Reality itself is under attack.
The epic Star Trek: Coda

trilogy

begins when the unexpected arrival of an old friend triggers a desperate mission to avert a fast-spreading temporal disaster.
Summary
[
]
Part I: Time's Scythe
Part II: Crossed With Adversity
Part III: Our Revels Now Are Ended
References
[
]
Characters
[
]
USS Aventine personnel

[

]
Samaritan Bowers • Ezri Dax • Gruhn Helkara • Talia Kandel • Lonnoc Kedair • Mikaela Leishman • Oliana Mirren • Simon Tarses • Tharp • USS Aventine personnel (unnamed USS Aventine personnel)
USS Enterprise-D (alternate universe) personnel

[

]
Referenced only 
USS Enterprise-E personnel

[

]
Abby Balidemaj • Hailan Casmir • T'Ryssa Chen • Beverly Crusher • Kirsten Cruzen • Dina Elfiki • Joanna Faur • Tamala Harstad • Hegol Den • Rennan Konya • Geordi La Forge • Antoinette Mimouni • Jean-Luc Picard • Bryan Regnis • Aneta Šmrhová • Taurik •

Oliver Trimble

• Tropp • Worf • USS Enterprise-E personnel
USS Relativity personnel

[

]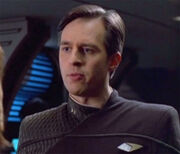 Ailur • David Cambria • Juel Ducane • Faroti • Jeva Myras • Rabal
USS Titan personnel

[

]
Referenced only 
Other Starfleet personnel
[
]
Leonard James Akaar • Jenishan zh'Crivash • Tom Paris • B'Elanna Torres • Starfleet personnel (

24th century Starfleet personnel

;

29th century Starfleet personnel

)
Referenced only 

Richard Adams •

Zhoreń Cygmunt

• Katherine Pulaski •

Roaas
Other characters
[
]
Referenced only 
Starships and vehicles
[
]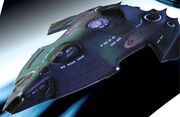 Referenced only 
Locations
[
]
Devidia II (Devidian system, Marrab sector, the galaxy's Alpha Quadrant) • Earth (Sol star system, sector 001,

quadrant 0

, the galaxy's Alpha Quadrant) • Gateway (coordinates 4.05N 6.68E, UFC 465537 star system, sector 90.4, the galaxy's Beta Quadrant) • Starbase 11 (Planet Yko, coordinates 0.93S 3.18W, the galaxy's Beta Quadrant)
Planetary locales
[
]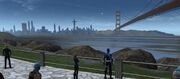 Earth

Yko
Races and cultures
[
]
States and organizations
[
]
Federation • Starfleet •

Starfleet Research Division
Science and classification
[
]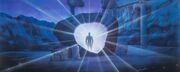 Lifeforms
[
]
Materials and substances
[
]
atmosphere • beverage • blood • food • transparasteel
Food and drink
[
]
Technology and weapons
[
]
computer • disruptor • intercom • phaser • power cell •

scythe

• starbase • starship •

temporal warp core

•

transphasic disruptor

• transphasic torpedo
Ranks and titles
[
]
captain • chief engineer • commander • doctor
Other references
[
]
decade • ghost • government • minute • nation-state • races and cultures • science • Sunrise on Zeta Minor • year
Appendices
[
]
Images
[
]
Connections
[
]
Timeline
[
]
External links
[
]