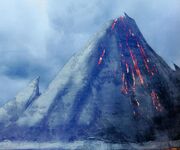 Mount Tarhana (also spelled Mount Tar'Hana) was a volcano on the planet Vulcan, located in the province of Kir.
Mount Tarhana was almost 483 kilometers east of the capital city of ShirKahr and was visible throughout the city. It was still active and regularly belched out steam as well as fiery lava onto the plains below. Despite this being the case, the eruptions never threatened the safety of ShirKahr. The sight of Mount Tarhana often struck a common chord amongst all Vulcans, for it reminded them how fragile their control was over their world's hostile environment. This also served as a potent analogy for how fragile their control over their emotions could be.
The peak of Tarhana was forever immortalized in art, poetry as well as cheap souvenirs on a hundred worlds and even in the Old Quarter in ShirKahr by Ferengi traders. This volcano, while recognized, was not worshiped, which contrasted it to Mount Fuji on Earth's Japan. Tarhana was still storied but was no longer part of the mythology. (Last Unicorn RPG module: The Way of Kolinahr: The Vulcans)
In 2154, T'Pol told Commander Trip Tucker that Tarhana still occasionally erupted. (ENT episode: "Home")
Mount Tarhana was first mentioned in the Last Unicorn Games guide The Way of Kolinahr and was one of the few non-canon examples that became canon.
External links