For other uses, see Mudd.
Mudd was a class K planet named after the Human who discovered it, Harcourt Fenton Mudd. The planet is the second in the system, orbiting the star UFC 257704. (ST reference: The Worlds of the Federation)
Another source identifies this world as Galor IV. (Decipher RPG module: Worlds)
Mudd was populated by a race of androids, built by a humanoid civilization from the Andromeda Galaxy millions of years ago. The Makers perished when their star went nova 1,743,912 years before Mudd's arrival. (TOS novel: Mudd's Angels) Harry Mudd discovered the planet whilst evading a Federation trade patrol and was made "Lord Mudd" by the androids who granted him his every desire, except freedom. In a bid to escape, Mudd commanded the androids to bring the USS Enterprise to the planet in the hope the crew would rescue him. After briefly being held by the Androids the Enterprise crew escaped, but left Mudd behind. He was eventually able to escape himself. (TOS episode: "I, Mudd")
Since this encounter Federation traffic had been re-routed to avoid the area, but as the androids had spacefaring technology, other encounters seemed likely. (ST reference: The Worlds of the Federation)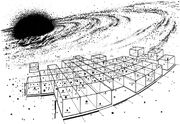 Mudd was noted on star charts of the galaxy's explored regions in the 23rd and 24th centuries, in an area of the projection also containing Ariannus, Benecia and the Romulan Neutral Zone. (TOS movie: The Undiscovered Country, TNG episodes: "Conspiracy", "The Measure of a Man", "The Emissary", "The Mind's Eye", "The Game", DS9 episodes: "In the Hands of the Prophets", "Cardassians")
Community content is available under
CC-BY-SA
unless otherwise noted.