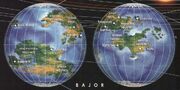 Musilla Province is a province of Bajor.
In 2366, several Cardassian locations in Musilla Province were bombed by the Bajoran Resistance. (DS9 episode: "Things Past")
A friend of Kira Nerys owned a home in Musilla Province that overlooked the Holana River. (DS9 episode: "Looking for par'Mach in All the Wrong Places")
Mobara taught at an engineering university in Musilla Province. (DS9 episode: "The Darkness and the Light")
This was presumably Musilla University.
In 2376, Starfleet set up a temporary base of operations in Musilla Province during the parasite crisis. (DS9 novel: Unity)
Appendices
Connections
External link