m

m

 

(2 intermediate revisions by one other user not shown)
Line 1:
Line 1:
−

[[File:SCISEC Science Officer.jpg|200px|thumb|right]]

+

[[: Science Officer.jpg|thumb|]]

 

'''Starfleet Academy SCISEC Brief 002: Mystery Behind Ceti Alpha VI''' is a short episode in the DVD Extra series of [[Starfleet Academy SCISEC Briefs]]. In this episode, an unnamed {{dis|Starfleet Science Officer|SCISEC Briefs}} examines events of [[Star Trek II: The Wrath of Khan]], particularly the damage to the [[planet]] [[Ceti Alpha VI]].

 

'''Starfleet Academy SCISEC Brief 002: Mystery Behind Ceti Alpha VI''' is a short episode in the DVD Extra series of [[Starfleet Academy SCISEC Briefs]]. In this episode, an unnamed {{dis|Starfleet Science Officer|SCISEC Briefs}} examines events of [[Star Trek II: The Wrath of Khan]], particularly the damage to the [[planet]] [[Ceti Alpha VI]].

 
 
 

==References==

 

==References==

−
 
 

===Characters===

 

===Characters===

−

*{{dis|Starfleet Science Officer|SCISEC Briefs}}

+

{{dis|Starfleet Science Officer|SCISEC Briefs}}

 
+

{{ref}}[[Pavel Chekov]] • [[Khan Noonien Singh]] • [[Clark Terrell]]

 
+

===Races and cultures===

 
+

:[[Human]]

 
+

{{ref}}[[Augment]]

 
+

===Locations===

 
+

:[[Earth]] • [[Golden Gate Bridge]] • [[San Francisco]] • [[Starfleet Academy]]

 
+

{{ref}}[[Ceti Alpha]] • [[Ceti Alpha I]] • [[Ceti Alpha II]] • [[Ceti Alpha III]] • [[Ceti Alpha IV]] • [[Ceti Alpha V]] • [[Ceti Alpha VI]]

 
+

===Starships and vehicles===

 
+

:[[Type-6 shuttlecraft]] • [[Type-11 shuttlecraft]] • [[Type-15 shuttlepod]] • [[unnamed Federation shuttlecraft classes#24th century]]

 
+

{{ref}}{{pre|SS|Botany Bay}} ([[DY-100]] class) • {{USS|Enterprise|NCC-1701}} ({{class|Constitution}}) • {{USS|Reliant|NCC-1864}} ({{class|Miranda}})

 
+

===Other references===

 
+

:[[asteroid]] • [[black hole]] • [[Class M]] • [[environmental suit]] • [[officer]] • [[orbit]] • [[planet]] • [[Starfleet]]

 
 
−

===Planets===

+

====

 
+

[[file:ceti Alpha system, SciSec 02.jpg|thumb|The Ceti Alpha system in 2267.]]

−

*[[Ceti Alpha VI]]

 
 
+

===Chronology===

−

*[[Ceti Alpha V]]

 
 
+

*[[2267]] - [[Ceti Alpha VI]] exploded, shifting the [[orbit]] of [[Ceti Alpha V]] which made the planet almost uninhabitable.

−
 
 
+

*[[2285]] - While on a scientific survey mission, {{USS|Reliant|NCC-1864}} was commandeered by survivors from Ceti Alpha V.

⚫
 
 
+

*Late [[24th century]] (post [[2379]]) - [[Starfleet Academy SCISEC Briefs]] take place.

 
+

===Related stories===

 
+

*{{e|TOS|Space Seed}}

 
+

*{{n|VAN|Storming Heaven}}

 
+

*{{m|TOS|Star Trek II: The Wrath of Khan}}

 
⚫
 

{{Starfleet Academy stories}}

 

{{Starfleet Academy stories}}

−
 
 

[[Category:Episodes]]

 

[[Category:Episodes]]
---
Latest revision as of 14:30, 20 September 2015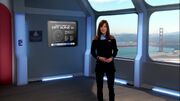 Starfleet Academy SCISEC Brief 002: Mystery Behind Ceti Alpha VI is a short episode in the DVD Extra series of Starfleet Academy SCISEC Briefs. In this episode, an unnamed Starfleet Science Officer examines events of Star Trek II: The Wrath of Khan, particularly the damage to the planet Ceti Alpha VI.
Referenced only 
Referenced only 
Type-6 shuttlecraft • Type-11 shuttlecraft • Type-15 shuttlepod • unnamed Federation shuttlecraft classes#24th century

Referenced only 

SS Botany Bay (DY-100 class) • USS Enterprise (Constitution-class) • USS Reliant (Miranda-class)
asteroid • black hole • Class M • environmental suit • officer • orbit • planet • Starfleet
Community content is available under
CC-BY-SA
unless otherwise noted.