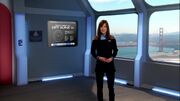 Starfleet Academy SCISEC Brief 002: Mystery Behind Ceti Alpha VI is a short episode in the DVD Extra series of Starfleet Academy SCISEC Briefs. In this episode, an unnamed Starfleet Science Officer examines events of Star Trek II: The Wrath of Khan, particularly the damage to the planet Ceti Alpha VI.
References
Characters
Referenced only 
Races and cultures
Locations
Referenced only 
Starships and vehicles
Type-6 shuttlecraft • Type-11 shuttlecraft • Type-15 shuttlepod • unnamed Federation shuttlecraft classes#24th century

Referenced only 

SS Botany Bay (DY-100 class) • USS Enterprise (Constitution-class) • USS Reliant (Miranda-class)
Other references
asteroid • black hole • Class M • environmental suit • officer • orbit • planet • Starfleet
Appendices
Chronology
Related stories
Connections
Community content is available under
CC-BY-SA
unless otherwise noted.