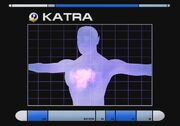 Starfleet Academy SCISEC Brief 003: Mystery Behind the Vulcan Katra Transfer is a short episode in the DVD Extra series of Starfleet Academy SCISEC Briefs. In this episode, an unnamed Starfleet Science Officer examines the mysticism around Vulcan Katric transfer.
References
Edit
Characters
Edit
Referenced only 

James T. Kirk • Leonard McCoy • Sarek • Spock • Surak • T'Lar • Valeris
Races and cultures
Edit
Locations
Edit
Referenced only 
Starships and vehicles
Edit
Other references
Edit
Appendices
Edit
Chronology
Edit
Related stories
Edit
Connections
Edit
Community content is available under
CC-BY-SA
unless otherwise noted.