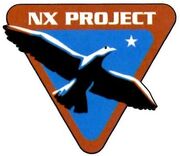 The NX program, also known as the NX project, was the experimental warp drive program that was nearly put on hold after the destruction of the NX-Alpha but, due to the interference of then Commanders Jonathan Archer and A.G. Robinson, was saved and the NX program went on to create the first warp 5 engine starship, Enterprise (NX-01). (ENT episodes: "First Flight", "Broken Bow")
NX Program article at Memory Alpha, the wiki for canon Star Trek.
Community content is available under
CC-BY-SA
unless otherwise noted.