For other uses, see Narendra.
The Narendra class was a Federation starship class, a tier 6 support cruiser, in service from 2319 to the early 25th century. (STO - Klingon War mission: "Welcome to Earth Spacedock")
The ship type began its existence with the USS Ambassador and the original configuration of the Ambassador-class heavy cruiser. This design stemmed from Captain Andrew Probert and was considered ahead of its time. The Ambassador-class was subsequently refitted to its production configuration. (ST calendar: Ships of the Line 2012, STO - Klingon War mission: "Welcome to Earth Spacedock")
Other ships of the Ambassador-class appeared in the original configuration but were also refitted to what became the standard Ambassador-class of the 24th and 25th centuries. (ST video game: Trexels mission: "Skirmish" mode) This included the USS Enterprise-C. (ST video game: Trexels, The Official Starships Collection Issue Special Issue 7: "Enterprise NCC-1701-C Probert Concept ")
Following the end of the Hur'q War and in response to the Iconian War of 2411, the Allied Cooperative Starship Development Board jointly realized tier-6 support cruisers - the Narendra-class for Starfleet and the Vor'ral-class battlecruiser for the Klingon Defense Force. The Narendra was named for Battle of Narendra III, when the Ambassador-class starship USS Enterprise-C sacrificed itself defended a Klingon colony from a Romulan attack. (STO - Victory Is Life mission: "Welcome to Earth Spacedock", "New Support Cruisers Join the Alliance Fleet")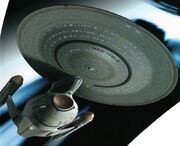 The Narendra-class support cruiser shared its external and internal layout with the Ambassador-class, but appeared sleeker. The nacelles were held by the nacelle pylons above and away from the secondary hull. The saucer section was essentially circular. Total length of the ship is 562 meters long.
In 2410, the class was rated tier 6, requiring an officer with the rank of rear admiral, lower half to fill the role of commanding officer. The ship's components were interchangeable with its sister classes of the Ambassador- and Yamaguchi-class.
The re-launch of the Narendra-class, tier-6 fleet rating became an option for support cruiser classes, and more components for changing. (STO - Klingon War mission: "Welcome to Earth Spacedock")
In the 25th century, the design of the Narendra-class support cruiser allowed its commanding officer to choose from different designs of livery, which could be modified further at starbases. These options were numbered Types, Upgrade, Veteran, and Fleet. (STO - Klingon War mission: "Welcome to Earth Spacedock")
Furthermore, the installation of deflector shields from specific factions modified the hull appearance, including shields from the Reman Resistance, the Breen Confederacy and the Dominion. (STO missions: "Coliseum", "Cold Storage", "Boldly They Rode")
Community content is available under
CC-BY-SA
unless otherwise noted.