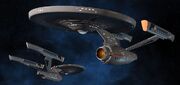 The Nautilus was a 26th century Federation starship, a Constitution-class cruiser operated by Shadow Fleet rebels in the 2540s decade.
Service history and disposition
[
]
This unidentified vessel had entered service by the early 26th century. Outwardly, it appeared like a black Constitution-class vessel in the configuration basically similar to that of the year 2270 but with signs of refit, like shorter nacelles. Its outer hull had been repeatedly replaced and was covered in black, patched-up plates.
From circa 2508 it served for 38 years as an ore hauler, until Consilium Master Dylan Arios and Phil Cooper acquired it in 2546. By the 2540s, it had been active for decades.
Because the ID had been scrubbed off and the logs wiped, the rogue master named the vessel the Nautilus. Cooper named it after the USS Nautilus, the first atomic-powered submarine on Earth.
After about two years in Shadow Fleet service, in 2549, the Nautilus was on course for the Tau Lyra star system and the nearby Crossfield Nebula. Falling into the range of a Turtledove anomaly point within the nebula, the Nautilus was thrown back in time to stardate 6251.1 in 2270. The vessel, experiencing system overloads and power failures, used its remaining energy to set course for Tau Lyra III, a prespaceflight planet inhabited by the Yoons. The contemporary starship USS Enterprise, incidentally of the same configuration as the much older Nautilus, captured the presumed pirate ship and rescued its crew of six when life support failed.
Soon after, they were intercepted by the Consilium-controlled Federation psion jumpship Savasci. (TOS novel: Crossroad)
Personnel
[
]
Appendices
[
]
Connections
[
]
Appearances
[
]