The Negh'Var class was a 24th century Klingon starship type, a large warship class in Imperial Defense Force service from the 2370s decade. The IKS Negh'Var, flagship of the Chancellor of the High Council of the Klingon Empire, was the first ship of the class. (DS9 episode & novelization: The Way of the Warrior)
Features
The Negh'Var-class was a powerful new form of warship developed by the Klingon Empire in secret, with very few even among the Klingon High Council knowing of the project's existence. It was a significant departure from "traditional" Klingon designs which favored swift, agile vessels, instead offering heavy firepower and pure brute strength.
Negh'Var-class ships were slightly smaller than Starfleet's Sovereign-class ships, and were capable of carrying a security detail of 2,700 personnel. They were armed with disruptors, heavy disruptors and photon torpedoes, and were equipped with a cloaking device. (ST video games: Armada, Armada II, Star Trek Online)
Kurak, daughter of Haleka was the main designer of the prototype IKS Negh'Var. (TNG novel: Diplomatic Implausibility)
History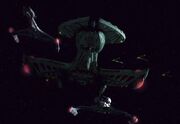 The prototype Negh'Var was launched in 2372 and became the flagship for the Chancellor during the Klingon-Cardassian War. (DS9 episode: "The Way of the Warrior")
Negh'Var-class vessels would continue to participate in major engagements at least as late as 2409. (ST video game: Star Trek Online)
Mirror universe
The Negh'Var-class was also present in the mirror universe under the command of the Klingon-Cardassian Alliance. Regent Worf used one of these vessels, also called IKS Negh'Var, for his flagship. The vessel led an attack on Terok Nor in 2372 but was forced to retreat after suffering heavy damage at the hands of the Terran Rebellion. In 2375 both she and a cloaking device stolen from the prime universe Klingon Empire were captured by the Rebellion. (DS9 episodes: "Shattered Mirror", "The Emperor's New Cloak")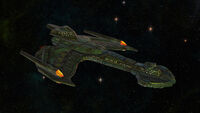 In late 2409 several examples of the mirror universe class were captured by the prime universe Klingon Empire and incorporated into the Klingon Defense Force. (ST video game: Star Trek Online)
Ships of this class
See also unnamed Negh'Var class starships.
Appendices
References
Connections
External links