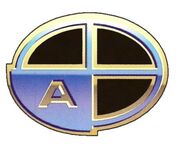 Nekkar (or Beta Boötis) is a star with an associated star system in Klingon Empire space, located in the galaxy's Alpha Quadrant.
History and specifics
Nekkar was a giant star, a G type yellow giant. Nekkar was the location of a planetary system in orbit, including fifth planet Nekkar V. (ST video game: Starfleet Command III)
No history or specifics are established for this location in Starfleet Command III, as its name was arbitrarily selected for a Klingon system on the game map by the game software, with random attributes.
System makeup
Nekkar system primary star
Nekkar I
Nekkar II
Nekkar III
Nekkar IV

Nekkar V
Appendices
Connections
Alpha and Beta Quadrant stars and star systems (N)
Nabu • Naia • Nakagima 62B • Nalogen • Nara'gi system • Narciso • Narisian system • Narudian • NC513 • Ndele •

N'derial

• Needra system • Nelve • Neptor • Nereit • Nestor Prime • Neumenedes • New Camden • NGC 400 • NGC 7332 • NGC 8149 • Nibia • Njura • Norvel • Nova Atar • Novak • Nu Chalcedonis • Nvarat • Nymyn
Alpha Quadrant stars and systems (N)
Nakarat • Nashira • Neethia • Nekkar • Neural system • Nevis • New Kentar • NGC 162 • Nodell 16 • Nuraka • Nusakan
Beta Quadrant stars and systems (N)
Narendra • Nausicaa system • Negh'var • Nequencia • Nevasa • New Otha • No'Mat • Nu Tauri • Nu Octantis
External link