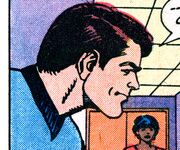 Ensign Nelson was a male Human Starfleet sciences division officer serving aboard the USS Enterprise in 2265.
Around stardate 1297.80, Nelson bore witness to Lieutenant Hikaru Sulu's failed attempt to "become better acquainted" with Nyota Uhura, shortly after her assignment to the Enterprise. After laughing at Sulu's embarrassment, Uhura inquired if Nelson had anything better to do than observe Sulu. (TOS comic: "Uhura's Story")
Community content is available under
CC-BY-SA
unless otherwise noted.