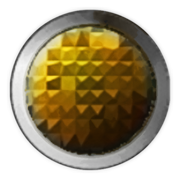 In terms of galactic politics, neutral space (or neutral zones) are areas or regions of space where major governments, political entities or factions have not established territorial claims or colonial expansions. Planets and stars' systems in such regions are considered "non-aligned" or "unaffiliated".
In the Star Trek Customizable Card Game, "non-aligned" characters, ships and settings are represented by a plain gold globe insignia.
History and specifics
[
]
Neutral space can sometimes be recognized by way of a treaty between two or more such powers to comprise a "buffer zone" between two factions to prevent unexpected encounters or misunderstandings. One notable example would be the Federation-Romulan Neutral Zone, commonly known as the Romulan Neutral Zone, which existed between the Federation and Romulan Star Empire for over 200 years.
One such area, the Federation-Klingon Neutral Zone bordered between the United Federation of Planets and the Klingon Empire. (TOS movie, novelization & comic adaptations: The Wrath of Khan, The Undiscovered Country, TOS comic: "The Wormhole Connection")
This neutral zone (sometimes referred to as the Klingon Neutral Zone, the Organian Neutral Zone, or Organian Treaty Zone) was negotiated by representatives of both powers over a period of three months following the imposition of the Organian Peace Treaty by the Organians in 2267. As a result of the zone's creation, both sides gained additional territory in some respect. However, the disposition of planets residing within the zone remained unresolved at the time. (FASA RPG module: Star Trek IV Sourcebook Update)
Alternate realities
[
]
In a version of the Kelvin timeline in the 2260s decade, a large swath of the galaxy's Alpha and Beta Quadrants was designated as a neutral zone from all major powers. Space travelers in this region were known as independents and lacked backing or support from any factions as they established their own infrastructure of space stations and mining interests in this region. (ST video game: Fleet Command)
Related articles
[
]
Appendices
[
]
References
[
]
External link
[
]