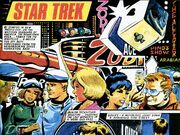 New Pacific City is a city, an Earth settlement located on the west coast of California along the shore of the Pacific Ocean.
Specifics
Located not far from Starfleet facilities, its downtown was notable for casinos and nightlife, and was popular with off-duty military personnel.
History
In the 2260s decade, it had some underworld criminal activity directed by "Scarface" Cass Conway.
Technician George Maguire often took shore leave in New Pacific City. On one occasion, he witnessed a murder, then feared that mobsters would come after him. (TOS comic: "Key Witness")
Establishments
Appendices
Connections
Appearance