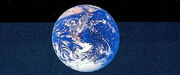 The State of New York is a geopolitical subdivision of the United States of America on Earth. The state includes the major settlement of New York City. The Federation starships USS New York were named for this region.
Jonathan Archer was born in upstate New York, and retired there following his term as Federation President in 2192. (ENT episode: "In a Mirror, Darkly, Part II")
Gary Mitchell was born in the city of Eldman, New York, in 2234. In 2249, he participated in the New York State racquetball singles championship. (TOS - My Brother's Keeper novel: Republic)
New York was home to Simon and MacMillan Books, which published E. B. Murray's Swindle! The Sale of Fraudulent Science in reference stardate 2/14 (c. 2270s). (FASA RPG - The Orions module: Book of Common Knowledge)
Locations
Appendices
Connections
Background
A number of Star Trek authors and editors live in New York State:
Apocrypha
The RPG The Dominion War Sourcebook: The Fires of Armageddon, published by Last Unicorn Games after they had lost their Star Trek licence, states that when the Breen attacked Earth in late-2375, one of their targets was New York.
External links