For other uses, see Nils.
Nils Pitcairn (also known as Clegg or Glenn Pitcairn) was a 23rd century Human male who served in Starfleet as transporter chief aboard the Federation starship USS Enterprise under the command of Captain Christopher Pike. (TOS episode: "The Cage")
History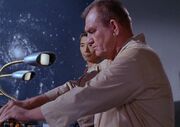 Pitcairn joined Pike's crew in early 2251 when Captain Christopher Pike took command of the Enterprise, and was one of the primary service personnel introduced to Pike by Yeoman Dermot Cusack in a pre-mission briefing.
Cusack identified Pitcairn as a technical genius. He noted that, with his impressive technical expertise, Pitcairn could well have made chief engineer, but favored using his skills on the transporter. Cusack noted that Pitcairn has a very sure skill with the device, which was considered quite tricky to use at the time. (EV comic: "Flesh of My Flesh")
Pitcairn often worked with an assistant who was named Yamata, a man of much slighter build who sometimes wore thick-rimmed spectacles. (TOS episode: "The Cage"; TOS novel: The Rift; EV comic: "Flesh of My Flesh")
In 2254, Pitcairn was operating the transporter aboard the Enterprise when a landing party beamed back from a Ngultor ship after rescuing Captain Pike, and later in the year when the Enterprise visited Talos IV. (EV comic: "Flesh of My Flesh"; TOS episode: "The Cage")
In January 2257, Pitcairn beamed down the first of five exploratory teams to the class M planet Susquatane within the Pergamum Nebula. (DSC novel: The Enterprise War)
Some of Pitcairn's actions were remembered by the Talosians and subsequently included in a thought transmission that was shown on an Enterprise viewscreen thirteen years after that mission, in 2267. (TOS episode: "The Menagerie")
Appendices
Connections
Background
Pitcairn's rank was not mentioned in his live action appearances, but he wore a jumpsuit without rank insignia that was favored by enlisted personnel. Cusack's comments that Pitcairn was chief engineer-material indicates that he was at least qualified to hold an officer's rank. He was identified as a lieutenant in DSC novel: The Enterprise War and addressed as "commander" in TOS novel: The Children of Kings. Whether he was a lieutenant commander or full commander was not specified in the second novel, but it also established that Lieutenant Commander Spock had the authority to give him orders.
In his episodic appearance, Pitcairn was played by actor Clegg Hoyt, but his voice was dubbed in in post-production, with a voiceover supplied by Robert C. Johnson. The appearance was used in similar form in both "The Cage" and in the aired version, "The Menagerie". Part of the voiceover was re-used in DSC episode: "If Memory Serves"
Pitcairn was singled out as a significant member of Pike's crew in the first issue of the Early Voyages comic series "Flesh of My Flesh" in scene showing Pike choosing his crew. Despite this Pitcairn made no further appearances throughout the seventeen issue series.
External link