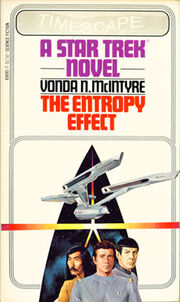 A novel is a literary work of over 40,000 words, as defined by the Science Fiction and Fantasy Writers of America. Hundreds of Star Trek novels have been published under license from the owners of the Star Trek franchise. Since 1980, Simon & Schuster has had the license from Paramount to publish Star Trek material, the bulk of which has been under their Pocket Books imprint. Previous licensees have included Ballantine Books, mostly under their Bantam Books imprint. The older Ballantine material is still occasionally reprinted under their Del Rey Books imprint, but the current Simon & Schuster license precludes Ballantine from publishing any new material. The first Star Trek novel was a young adult reader book titled Mission to Horatius, published by Whitman Publishing in 1968, their only contribution to Star Trek prose publishing.
Series
Canon series
Star Trek canon includes all franchises that have appeared in film and on television.
Licensed series
Crossover novels
See also miniseries for other multiseries collections of novels.
Crossover novel series
Stand-alone novels
See also
Connections