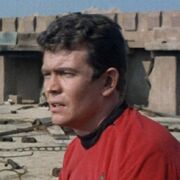 O'Herlihy was a Human male who served in Starfleet in the late 23rd century. By the mid-2260s, O'Herlihy held the rank of ensign and was assigned as a tactical officer aboard the USS Enterprise.
In 2267, O'Herlihy was one of three tactical officers that were chosen to accompany Captain James T. Kirk to the Federation observation post on Cestus III. Shortly after beaming down, the landing party came under attack by Gorn soldiers. Unfortunately, O'Herlihy was killed by a disruptor blast seconds after taking position to fight the attackers. (TOS episode: "Arena")
Community content is available under
CC-BY-SA
unless otherwise noted.