For other uses, see Class O.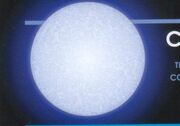 An O-class (or O-type) star is a stellar classification for stars composed of ionized atoms, especially helium, emitting high amounts of ultraviolet radiation, generally referred to as being blue-violet or dark blue in color. O-type stars in the main sequence tend to be extremely hot in temperature (in the neighborhood of 28,000 to 50,000 Kelvin) and bright in terms of absolute magnitude, the "dark" and "violet" descriptors of their name are as such because of the large output of non-visible heat radiation. (ST reference: Star Charts)
O stars
Delpic

[1]
O9.5II:

Delta Orionis Aa1 (part of the Mintaka system)

.
Connections