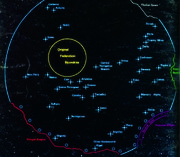 Omega Aurigae was a star system located in Federation space, in the Alpha or the Beta Quadrant. It was a part of the Auriga constellation.
This binary system's primary star was a blue-white giant star, with a brightness of absolute magnitude −3.
The system was home to 15 planets (ST reference: Star Trek Maps). The second or sixth planet was the only Class M planet, a Federation colony world named New Paris (FASA RPG module: The Federation).
Star Charts makes New Paris the sixth planet of an unnamed system, while The Federation makes it the second planet of the Omega Aurigae system, thus naming the system.
Appendices
Connections
Stars, systems and objects of the Auriga constellation
4 Aurigae (Omega Aurigae) • 7 Aurigae (Epsilon Aurigae, Maaz) • 8 Aurigae (Sadatoni, Zeta Aurigae) • 13 Aurigae (Alpha Aurigae, Capella) • 33 Aurigae (Delta Aurigae, Prijipati) • 34 Aurigae (Beta Aurigae, Menkalinan) • 56 Aurigae (Psi-5 Aurigae, Pyrellia) • 329 Aurigae • Alpha Aurigae (13 Aurigae, Capella) • Beta Aurigae (34 Aurigae, Menkalinan) • Capella (13 Aurigae, Alpha Aurigae) • Gamma Aurigae (aka Beta Tauri, El Nath) • Delta Aurigae (33 Aurigae, Prijipati) • Epsilon Aurigae (7 Aurigae, Maaz) • Menkalinan (34 Aurigae, Beta Aurigae) • Omega Aurigae (4 Aurigae) • Perseus sector (Megara system/329 Aurigae) • Prijipati (33 Aurigae, Delta Aurigae) • Psi Aurigae (Psi-5 Aurigae/56 Aurigae/Pyrellia) • Sadatoni (8 Aurigae, Zeta Aurigae)
References
External links