For other uses, see Tiburon.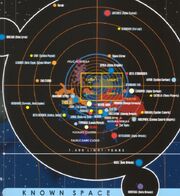 Omega Fornacis (also known as 34 Fornacis, Beta Theseus or Tiburon) is a star system, a binary star in the galaxy's Beta Quadrant, in Federation space.
This binary consists of a paired type B blue star and type M red star. In the constellation of Fornax, Omega Fornacis is located 453 light-years from Earth, near the borders of the Klingon Empire. The red star, Omega Fornacis A, is the site of a planetary system that includes the Tiburon, homeworld of the Tiburon civilization. (ST references: Star Trek Maps, The Worlds of the Federation, Star Charts)
Community content is available under
CC-BY-SA
unless otherwise noted.