Omega IV (Qav'loS) was a planet located in the space of the galaxy's Alpha or Beta Quadrants, the fourth planet in the Omega star system.
This M class world was the battle ground and homeworld of the Omega IV natives, a humanoid species that had two ethnic groups, the Kohms and the Yangs, and was the planetary home of the Omega IV virus. (TOS episode & novelization: The Omega Glory)
Sometime in the 22nd century, the Earth Cargo Service freighter ECS Philadelphia visited Omega IV. The Philadelphia crew left behind copies of the United States Constitution, Declaration of Independence, and the Pledge of Allegiance, to inspire the native Yangs in the struggle against the Kohms. Unfortunately, after the Philadelphia left the planet, the crew all died of the Omega IV virus. (DTI novel: Forgotten History)
The Albino used Omega IV to contract the Omega IV virus and use it as a coup tool on The Jade Lady. (ST novel: Excelsior: Forged in Fire)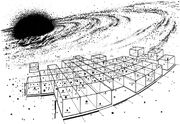 Omega IV was noted on star charts of the galaxy's explored regions in the 23rd and 24th centuries, in an area of the projection also containing Omega Cygni, Organia and Alpha Majoris. (TOS movie: The Undiscovered Country, TNG episodes: "Conspiracy", "The Measure of a Man", "The Emissary", "The Mind's Eye", "The Game", DS9 episodes: "In the Hands of the Prophets", "Cardassians")
Community content is available under
CC-BY-SA
unless otherwise noted.