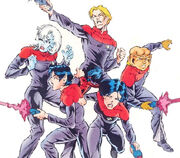 Omega Squad (also known as Omega Squadron) was a training unit at Starfleet Academy. Omega Squad was formed by Trill Starfleet Commander Kyethn Zund in 2372 and quickly became a stand-out squadron. Omega Squad opposed the traitorous Red Squad during Admiral James Leyton's failed coup of the Federation in 2372, and were crucial to the Federation's victory against a Dominion plot to disable all telepathic races in the Federation in 2373. (Star Trek: Starfleet Academy comic series; DS9 - Mission Gamma novel: Cathedral)
Roster
After Starfleet Academy
The team did not stay together after the academy, going their separate ways. However, many of them went on to have successful Starfleet careers.
Nog served aboard Deep Space 9 during the Dominion War, and for years afterwards. He later transferred aboard the USS Challenger as its security chief, before designing the new Deep Space 9. (TNG novel: Indistinguishable from Magic)
He was still serving in Starfleet in the 2400s. (ENT novel: The Good That Men Do)
Pava Ek'Noor sh'Aqabaa went on to serve as a security officer aboard the USS Titan. She fought in the Borg Invasion of 2381, where she was critically injured, but survived the incident. She continued serving aboard the Titan thereafter. (ST novel: Lost Souls; TTN novel: Synthesis)
Edam Astrun went on to achieve the rank of Captain, though it's unknown where he was assigned. (SA comic: "Between Love and Hate")
Other references
Connections
Community content is available under
CC-BY-SA
unless otherwise noted.