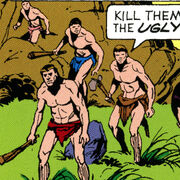 Ominnus was a class M planet located in the space of the galaxy's Alpha or Beta Quadrants. It was inhabited by a race of primitive humanoids which resembled cavemen. They grew the plant genitum lars in their sacred gardens.
In 2266, the the USS Enterprise journeyed to Ominnus to retrieve samples of genitum lars, which was needed to cure the plague that had stricken the planet Argylus and now threatened the lives of an Enterprise landing party. Spock and Leonard McCoy beamed down to the planet and located the herbs, but were attacked by the natives. Since they could not use their phasers due to the non-interference directive, Spock and McCoy fought them off with their clubs, then returned to the Enterprise. (TOS comic: "Child's Play")
Community content is available under
CC-BY-SA
unless otherwise noted.