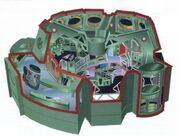 The operations center is the command center of a starbase or space station.
Deep Space 9's operations center was simply referred to as "ops". (DS9 episode: "The Forsaken")
Starbase Vanguard's operations center was located in the uppermost levels of its command tower. Huge viewscreens wrapped around the top third of its inner bulkhead. In the center of the room was a slightly elevated supervisors' deck on which stood an octagonal conference table known as the hub. Starbase 375 also had an operations center, which had a chair in the middle of the room for the commanding officer. (VAN novel: Harbinger, TNG - Slings and Arrows eBook: The Oppressor's Wrong)
Community content is available under
CC-BY-SA
unless otherwise noted.