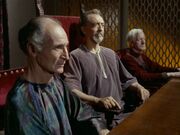 The Organians are non-corporeal life forms native to the planet Organia.
The Organians were at one time corporeal life-forms, but transcended their material bodies 22 million years ago. (LUG RPG: All Our Yesterdays.)
The Buried Age suggests that the Organian civilization is 5 to 10 million years old. Since that is in an archaeological context, it is possible that this figure refers instead to the age of the structures made for the benefit of corporeal species.
Most Organians preferred to remain on their homeworld in isolation, but there was a group of them who made extensive studies of various species by "possessing" the bodies of members of that species during stressful scenarios. In 2154, this group made first contact with humans via the crew of the Enterprise. The Organians erased all memory of their existence from the crew's minds, but began preparations for an official first contact. (ENT episode: "Observer Effect"; TNG novel: The Buried Age)
In 2267, when war broke out between the Federation and the Klingon Empire, the Enterprise attempted to secure Organia, but the planet was invaded by a Klingon task force led by Commander Kor. The war was ended when the Organians forced both sides to sign the Organian Peace Treaty. (TOS episode: "Errand of Mercy").
In 2269, the Klingons confined the Organians to their planet with a "thought-barrier", thus allowing war to break out between the Federation and Klingons once again. After the Enterprise reached Organia and freed it, the Organians confined the Klingons to their homeworld for 1000 years.* (TOS novel: Spock Must Die!)
* This in obvious contradiction with later incarnations of Star Trek.
At some point during this period, the Organians believed that a physical force was needed to ensure peace within the Alpha Quadrant and Beta Quadrant. To do this, they appeared before the leadership of the Interstellar Concordium and tasked that peaceful empire into enforcing the peace on others. This eventually failed as the many galactic powers rebelled against the attempt at controlling them and fought for freedom. (TOS computer game: Starfleet Command II: Empires at War)
The Organians temporarily left the material plane (perhaps by choice) in the year 2285, after apparently being manipulated by the Excalbians. This resulted in the disolution of The Organian Peace Treaty and allowed the Federation and Klingon powers to forge a peace on their own terms. (TOS comics: Errand of War & Deadly Allies)
In 2371, as James T. Kirk lay near death on Veridian III, he was revisited by the leaders of Organia, who showed him the difference his decisions made in history. (TOS short story: "Reflections")
The Organians were known to some species of the Gamma Quadrant. In 2376, one of the Even Odds crewmembers cited them as a powerful species that could be behind the Gateways Crisis. (DS9 novel: Rising Son)
Connections