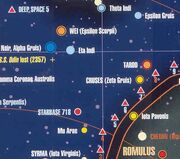 Outpost 4 (full designation outpost satellite 4023) was one of a series of Earth Outpost Stations located along the Federation side of the Romulan Neutral Zone. The outpost was constructed on an asteroid that was composed of almost-pure iron, and was located a mile deep. By the mid-2260s, the outpost had a complement of 20 personnel, and was commanded by Commander Hansen.
In late 2266, the outpost was attacked by an unknown attacker, that was later revealed to be the Romulan bird-of-prey, ChR Gal Gath'thong. Despite the station's deflectors and the rodinium plating of the hull, the Romulans' plasma torpedoes were easily able to penetrate them and take out the outpost's weapons. Despite being challenged by the USS Enterprise, a second attack from the bird of prey completely destroyed the outpost. (TOS episode & novelization: Balance of Terror)
Community content is available under
CC-BY-SA
unless otherwise noted.