Outpost Hunter was a mostly automated facility on the icy planet of Delta Vega in the Vulcan system, operated by Starfleet in the mid-23rd century. (TOS comic: "Star Trek Movie Adaptation, Number Five")
History
[
]
In the Kelvin timeline, by 2258 the outpost was manned by Starfleet officers Keenser and Montgomery Scott, and was also home to a tribble. Scott considered his stationing at the outpost a punishment for an experiment with transwarp beaming that resulted in the loss of Admiral Archer's prize beagle.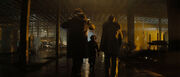 In that year, the Romulan Nero marooned Ambassador Spock on Delta Vega, so the elder Vulcan from the future could helplessly witness the destruction of his homeworld. The communication facilities at Outpost Hunter only provided intermittent contact with the Federation, and were subsequently inadequate for Spock to warn Vulcan of Nero's coming attack. After witnessing Vulcan's destruction Spock sustained himself with supplies from the outpost, but otherwise lived apart from the facility so not to further contaminate the timeline.
A short time after Vulcan's destruction, James T. Kirk was also stranded on Delta Vega, and when he met Spock they decided to go to the outpost to find a way to get off Delta Vega and stop Nero making further attacks. At the outpost Spock used his knowledge from the future to help Scott make adjustments to the transporter on Shuttle 78072 to perform a transwarp beam to the USS Enterprise. Keenser and Spock were left on the planet until after the Enterprise successfully defeated Nero, when they were retrieved. (TOS movie & novelization: Star Trek)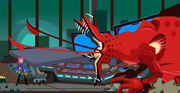 On stardate 1424.26, Keenser was stationed at the outpost when it became infested by two indigenous species, the polarilla and snow slug. Starfleet subsequently lost contact with the facility and dispatched special agent Erin Esurance to investigate and rescue Keenser. (TOS video game: Delta Vega: Meltdown on the Ice Planet)
Appendices
[
]
Background
[
]
The name Outpost Hunter was established in the Star Trek Movie Adaptation comic.
The stardate from Delta Vega: Meltdown on the Ice Planet roughly corresponds to a mid-2260s calendar date, which would seem to imply Keenser was ultimately returned to his posting on Delta Vega. Alternatively, given the stardate uses the system from the prime reality, the game may not take place in the Kelvin timeline, and may represent the fate of prime-Keenser.

Appearances
[
]
Connections
[
]
External link
[
]